Power Pool Plus welcomes LATAM sales manager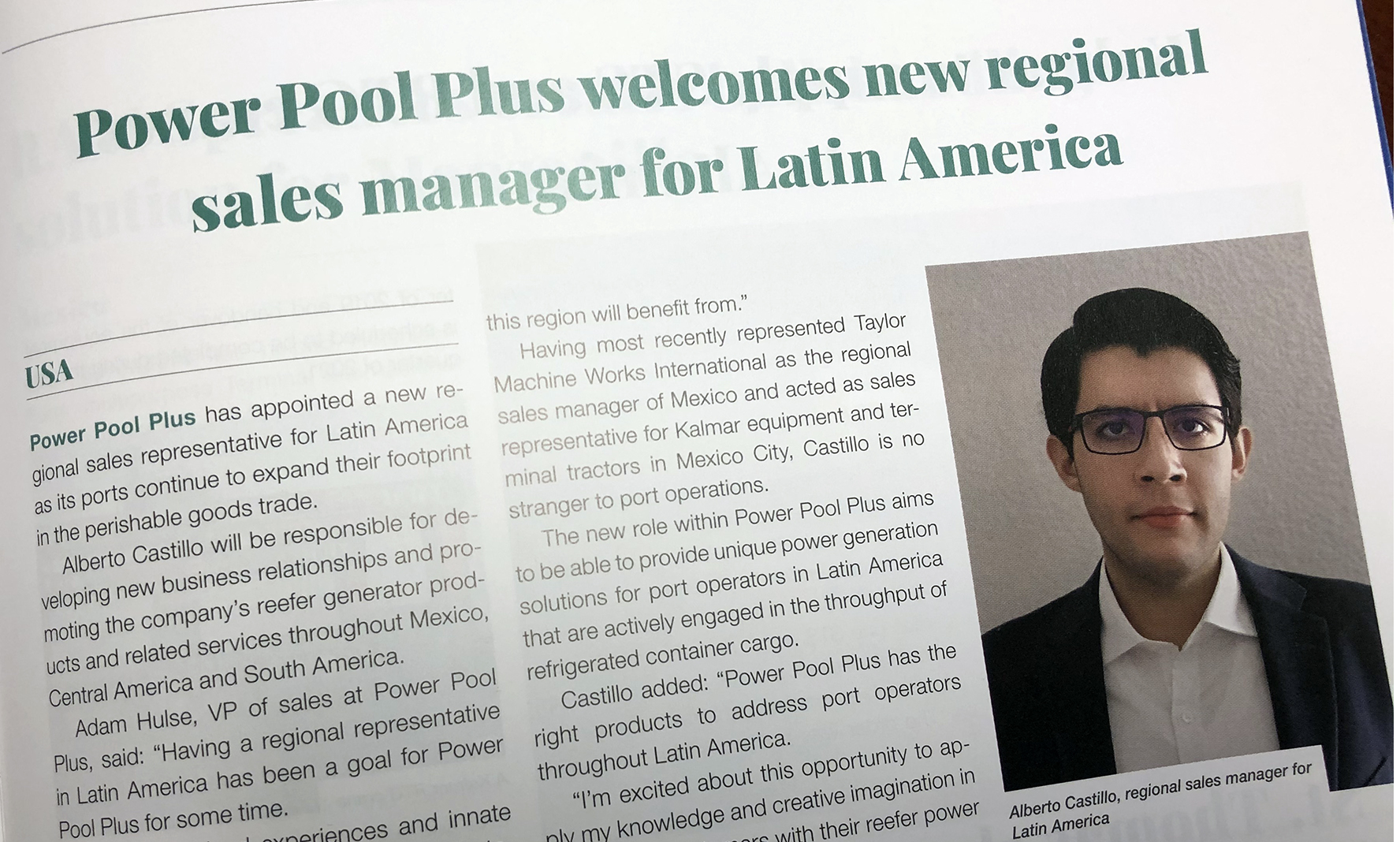 Power Pool Plus Welcomes Jose Alberto Castillo Magaña as Sales Manager of LATAM
Alberto provides his experiences in customer support to port equipment sales
(Alpha, New Jersey USA) Power Pool Plus is proud to announce the addition of Alberto Castillo as our Regional Sales Manager of Latin America. Alberto joins Power Pool Plus with past experience in addressing the heavy lifting requirements of both port and construction equipment operators. Mr. Castillo will be responsible for developing new business relationships and promoting our reefer generator products and related services throughout Mexico, Central America, and South America. Mr. Castillo is trained in mechanical engineering and is an accomplished sales professional with experience in solving unique challenges that maximize customer efficiencies.
Ports throughout Latin America are ever expanding their footprint in the perishable goods trade. This new role with Power Pool Plus will be to provide unique power generation solutions for port operators that are actively engaged in the throughput of refrigerated container cargo. Alberto is no stranger to the requirements of port operations. Based out of Mexico City, Mr. Castillo has most recently represented Taylor Machine Works International as the Regional Sales Manager of Mexico and SITSA in Mexico City as Sales Representative for Kalmar equipment and terminal tractors. Both roles addressed the capital equipment needs of port facilities.
According to Adam Hulse, VP Sales, "Having a regional representative in Latin America has been a goal for Power Pool Plus for some time. Alberto's valued experiences and innate appreciation for meeting customer expectations is a perfect fit to the character of Power Pool Plus that we believe our customers in this region will benefit from. Everyone on our team is very excited to have him on board with us."
"Power Pool Plus has the right products to address port operators throughout Latin America," says Mr. Castillo. "I am excited about this opportunity to apply my knowledge and creative imagination in helping our customers with their reefer power needs."
From spikes in seasonal cargo throughput to the efficient use of power packs to mitigate challenges in dependable ground power, Power Pool Plus is committed to helping port operators throughout Latin America to be successful in managing the ever expanding volumes of refrigerated container cargo. Mr. Castillo's experiences and professional acumen will be an asset not only to Power Pool Plus, but to the customers that he will effectively serve.