A Versatile Mobile Reefer Generator with a Compact Trailer Mounted Design.
Less expensive and less complicated than larger Power Pack alternatives, our PortaPacks™ deliver power where and when you need it most. The ability to quickly hitch them to any yard truck for positioning anywhere throughout the terminal, make these highly mobile reefer generator solutions valuable for any power requirement.
Use them to power smaller reefer loads, buildings, RTGs, gates, and any other on-terminal need.
Available in 10, 20, 30, AND NOW 40 receptacle plug models, there's a PortaPack™ to fit any need.
Key Features:
Easy to move to any location on a terminal with most hitch-equipped yard trucks.
Less expensive to operate compared to large reefer power generators
Available in 10, 20, 30, and 40 receptacle plug models
More than a mobile reefer generator, PortaPacks offer the ability to support other on-terminal power needs like emergency building power.
Who uses PortaPacks™?
Small Reefer Operators / Chassis Yards – PortaPacks enable the quick set up of a reefer handling facility virtually anywhere. Plus, their smaller size affords a lower initial investment and fuel savings over larger diesel-powered solutions when powering smaller quantities of refrigerated containers.

Advantage: Power Pool Plus PortaPack™

Pre-Tripping Reefers – Compared to clip-on and underslung GenSets, the PortaPack™ can supply power to multiple reefers at the same time. The added benefit, PortaPacks

™

have only one maintenance and fuel delivery point, reducing both time and cost for generator support.

For example, a small operator maintaining ten reefer containers with clip-on or underslung gensets will use close to 13 gallons of fuel per hour (1.3 gph per clip-on).  A 10-plug PortaPack™ (Model: P-100) will power those same ten containers at only 7.7 gallons per hour, saving the operator over 5 gallons of fuel per hour!  Both the maintenance and fuel savings are a cost difference that adds up over time.
Advantage: Power Pool Plus PortaPack™

RTG Operators – The operator has two options when an RTG is not being used – keep the sizeable onboard diesel generator running for an indefinite amount of time or move the RTG to a position where ground power is available to keep the RTG drives 'alive'. Either choice will cost fuel or time. The efficiency and mobility of the PortaPack™ solves both. One Portapack™ can easily power 4, 8, or 10+ RTGs.

Advantage: Power Pool Plus PortaPack™
At Power Pool Plus, we understand that many operations have needs that may not match our standard product offerings. Learn more about our Custom Options, or please contact us to address your unique situation.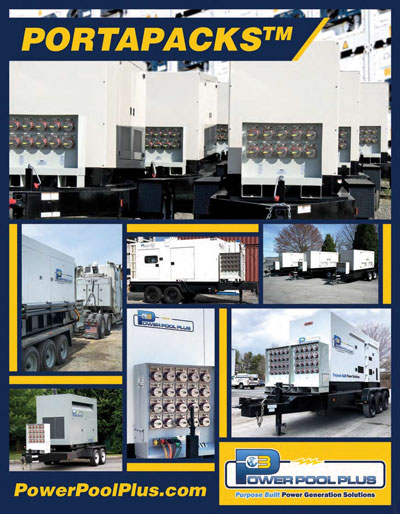 Purpose Built Power Generation Solutions
Get a Quote
---
P100 PortaPack - Reefer Genset
P200 PortaPack - Reefer Genset
P200 PortaPack - Reefer Genset
P400 PortaPack - Reefer Genset