4 Conversation Starters to Creating a Custom Power Pack
A power pack that fits exactly into your unique work environment can help maximize workflow efficiencies and help your team save both time and money.
What if you had a customized power pack that was designed around your operation and the challenges which you face daily?
Typical designs can feature 30, 40, or 50 or more receptacles all placed in one location on the power pack enclosure. Yet, unique yard layouts, stacking limitations due to container handling equipment, and other defining factors create challenges in trying to position all your reefer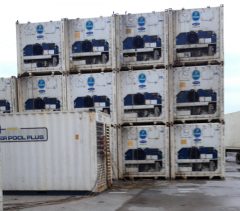 stacks around a single power source. These challenges disrupt operations creating extra labor time.
But it doesn't have to be this way.
And it all begins with having a complete understanding of what the operator is looking to accomplish.
4 questions that help get the conversation started might be.
1) How many plugs (or reefer cord connections) will be needed?
Power packs that operate with too many unused plugs on a regular basis operate inefficiently and can create engine problems due to wet-stacking.
Having the right amount of receptacles that maintain a level of capacity near 75% is ideal for engine health and fuel efficiency.
2) Where will the reefer stacks be positioned in relation to the intended power pack placement?
Too tight and critical airflow might be affected. Creative thought on power pack design can address this.
Too far away and reaching the power pack may be challenging. Bringing the receptacles to the reefer stacks through the use of remote trees may be needed.
3) What is the expected run-time between fuel deliveries?
Sizing the fuel tank appropriately to this key factor can be the difference that allows an operator to run non-stop between deliveries.
4) What is the operating climate?
Certain elements of design can help mitigate the negative effects of either tropical heat and humidity or artic cold.
Allow Power Pool Plus to create a custom power pack solution for you. Contact us today.
Recent Custom Projects