4 Essential Troubleshooting Tips for Power Packs
Reefer operators have only one thing on their mind, make sure that the refrigerated cargo under their care is kept safely to spec.
Having a diesel genset go down is never an option. But understanding a few of the issues that may cause a diesel generator to fail, may help to save the refrigerated loads and avoid a service call in the middle of the night.
Thankfully, most power pack failures are quickly resolved, and with some basic knowledge, can be managed successfully without having to wait for service.
To help your team through some of the most common issues, here are a few troubleshooting tips.
Power Pack will not start
Check that the battery disconnect switch is closed, and the batteries are charged.
Are the Emergency Stop Buttons engaged (pushed in)? Pulling them out may start the generator. Ensure that no one is working on the generator or is inside the container enclosure before pulling out any emergency stop button. There are two E-Stop buttons – one located outside the main door and another inside near the control panel.
Is there fuel in the tank? Yes, it may seem obvious, but our road service team has been called out many times only to discover a power pack that was allowed to run out of fuel. Note: after refueling, prime all fuel filters with fuel before restarting the engine. This will ensure a quick start and protect the fuel pump from damage.
Power Pack shuts down without warning
Fuel issues are the leading cause of power pack failures in ports. Poor fuel quality means clogged fuel filters. Change fuel canisters and elements, and drain and clean fuel/water separators frequently. Prime all fuel filters.
Overloading power packs is a common problem, and can easily lead to generator shut down and loss of the connected load. It happens when the reefer operator has more refrigerated containers to keep powered than available receptacles on the power pack. Beware of commonly used splitters to add capacity to power pack receptacle panels. An over-zealous operator may be inclined to connect as many as double the rated capacity of the power pack. It won't take long to exceed the limitations of the power pack causing the main breaker to trip and cutting electrical current from the generator to the plugs.
Low oil level, low coolant level, and other alarm faults can cause your power pack to shut down to protect itself from damage. Before each startup, or at regular intervals during 24hr run cycles, visually inspect for leaks and worn parts, check and top off all fluids to proper levels, adjust loose belts or replace as necessary, and remove debris from the container compartment.
Power Pack runs but does not produce electrical power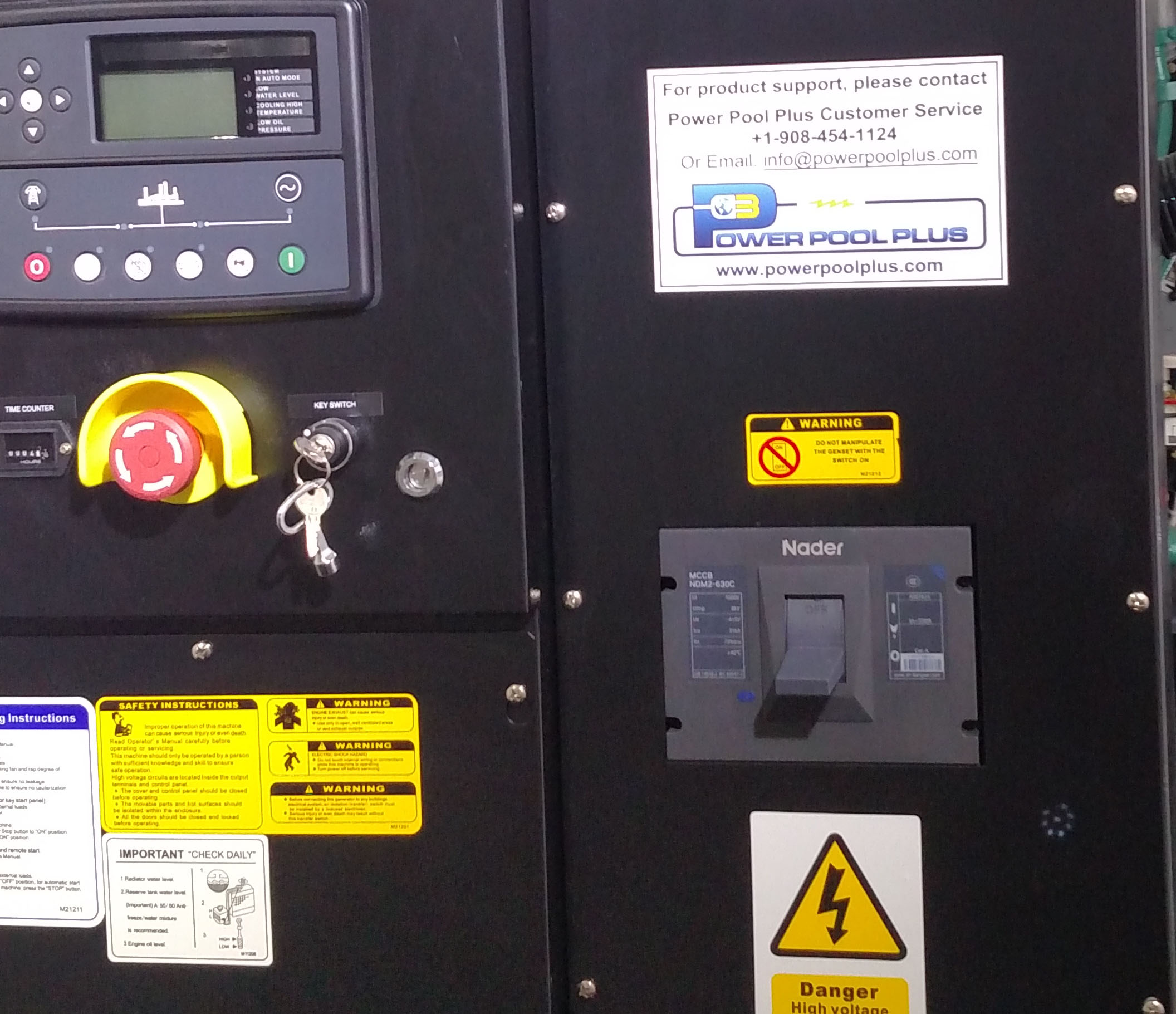 Check that the main breaker is engaged. Every power pack is different, but commonly located near the main control panel. Best practice is to engage the main breaker AFTER starting the engine.
Power Pack produces black exhaust smoke when running
Black exhaust smoke is a common sign of wet-stacking caused by under-loading a generator. Power Packs come in many sizes, typically identified by plug count (20-plug, 30-plug, 40-plug, and so on). They can carry a load equal to that number of refrigerated containers. Connecting less than half that amount over long periods is equivalent to starting your car and letting it run idle all day long, which is not ideal for the vehicle. A diesel engine will create soot, or unburnt fuel when operated like this. Too much of this carbon buildup will rob the diesel engine of vital power. Loading up the power pack to its capacity should clear most black smoke issues. If not, a load bank may be needed to replicate or add additional load to the power pack. Power Pool Plus can assist in this.
Final Thought:
Power Packs are essential equipment for nearly every reefer operator. Setting aside even a small amount of time to understand a few of these concerns and how to address them quickly will go a long way in protecting your power pack and the valuable refrigerated load connected to it.
Questions? Contact Us.
The Power Pool Plus Service Team is available anytime to help keep your power pack reefer gensets running at their best, day or night.
Ted Shelson
VP Marketing
Power Pool Plus